Dialpad – Goodbye Cord. Hello Future!
Excelien is excited with its latest partnership with Dialpad, a company making monumental moves in Silicon Valley and counts Netflix, Uber and Xero in their client base. Dialpad has already made its name in the UCaaS market for being the leading technology behind Yahoo Voice, Grand Central, and Google Voice. What came next is a Unified Communication and Contact Centre platform, which revolutionises the way companies operate. DialPad is entirely home-grown, created and developed for the cloud, meaning they can develop and issue the latest innovations at an accelerated pace compared to their adversaries, which would tend to rely on 3rd party products to piece together an offering. 
Integrate and Collaborate
Dialpad desired a service which worked the way employees worked – on any device and from any location. It originated with designing seamless integrations with all significant applications, with email systems like G-Suite and O365, Servicedesk integrations such as Zendesk and Jira, Collaboration tool integrations with Slack or Linkedin and CRM's such as Salesforce and Hubspot – All within a single pane of glass. As Dialpad is a 100% cloud-based platform, it syncs voice, video, contacts, and more in real-time within the integrations, meaning Dialpad can be the core of the user.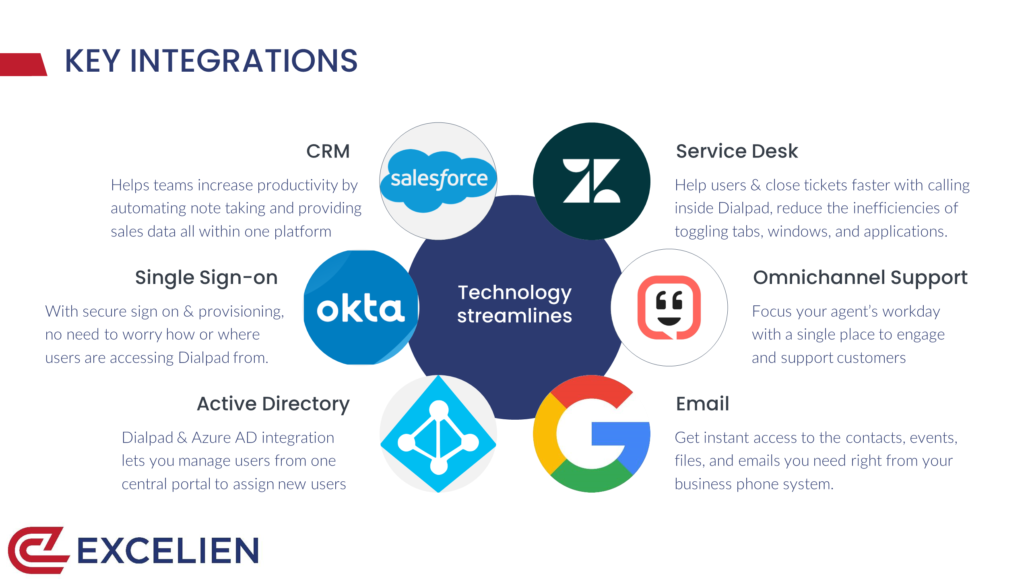 Video Calling
The conception of simplicity and ease of use is the focus of Dialpad. An example is Uberconference (was created before Uber!) has no PINs, no software to download, which means no hassle. With features such as Call Transcription and Voice AI available in real-time, you can get even more out from your conference calls. Dialpad creates products focused around exceptional user experiences and simplicity is core to everything Dialpad do.
Voice Transcription
Have you ever experienced awkward silences on calls or video-conferences were users are writing down notes rather than listening or forgetting a key point from earlier? With VoiceAI before, throughout, and following every call. It is actively building to-do lists, finding answers to tough questions, and it's discovering trends and insights that become common over time. As long as someone is talking within Dialpad, Vi is there making that conversation smarter and better.
Supporting Sales Teams and Agents
Dialpad Support and Sell offer innovative services for sales teams, contact centre agents and support staff, with the idea of simplicity at the core, users have a single platform with native integrations plus real-time coaching and suggestions. An example an agent can be on a call and real-time recommendations of how to answer the questions can pop-up and even highlighting previous conversations about topics related to the call. As data grows from your calls, the system will proceed to get more intelligent, empowering your agents further.
Excelien looks into the top 3 features of Dialpad Sell and Support.
1 – Dialpad help you identify who to call.
Dialpad maps the purchase intent and sentiment so Sales teams can identify who to call first. Dialpad looks at previous data to see if the prospect previously mentioned they had the budget, it was the right time, and isn't using a competitor vs the one that said several competitors, and maybe a more competitive, longer sales cycle. Dialpad Sell helps save time, distinguish who to call, and know that it's the right person to call.
2 – We help you know what to say.
Dialpad will save your users time on calls by taking notes for them. Providing real-time transcriptions they can reference, bringing up recommendations to questions they might not know how to answer, and even ensure they're following the sales process or playbook you have in place. The goal is to help you understand what is happening in these conversations and to support your users in having better, smoother, and more viable sales conversations. Dialpad removes the "I don't know moments", ensure they're following the playbook, and provide them with reminders on how to answer those tough questions around the competition or that new feature.
3 – We help you know what happened.
Everything post-call we refer to as Google Search for your conversations. All of your calls and indexed, searchable, and shareable. Want to know how often a competitor is named, or someone talks about that new product? It's a few clicks away. Shortly, you'll be able to build call libraries of entire calls or specific moments of calls to enable your team to learn from their colleague's conversations and help your team learn from each other or share best practices. You'll also be able to take all of this data with you and push it to a data studio to combine with other data sources if that's of interest.
Dialpad Sell
Dialpad Support
Security and Compliance
Security will be part of any project, and the telephone system is no different. Dialpad provides a range of security features from single sign-on capabilities to automated user provisioning. Dialpad allows integrations for access management through SAML and SCIM, integrating into providers like Azure, GSuite, OneLogin, Okta, and more. Calls with Dialpad across the VoIP network, as well as in transit web requests is encrypted utilising TLS and application data that is permanently stored at rest uses AES 256-bit within Google Cloud Platform. Dialpad will support your organisation to meet GDPR compliance obligations through features such as retention policies, data subject access requests, and specific consent mechanisms. Dialpad offers customers a Data Protection Agreement (DPA) and is also a Privacy Shield compliant. 
Business Continuity and Call Quality
Dialpad sits within the Google Cloud platform on a split-cloud architecture with Data Centres in every region, so anywhere you are based, you are receiving the most reliable service and enterprise call quality. The capacity to move data centres upon calling is seamless to the end-user, so they'll receive the same user-experience anywhere in the world they are.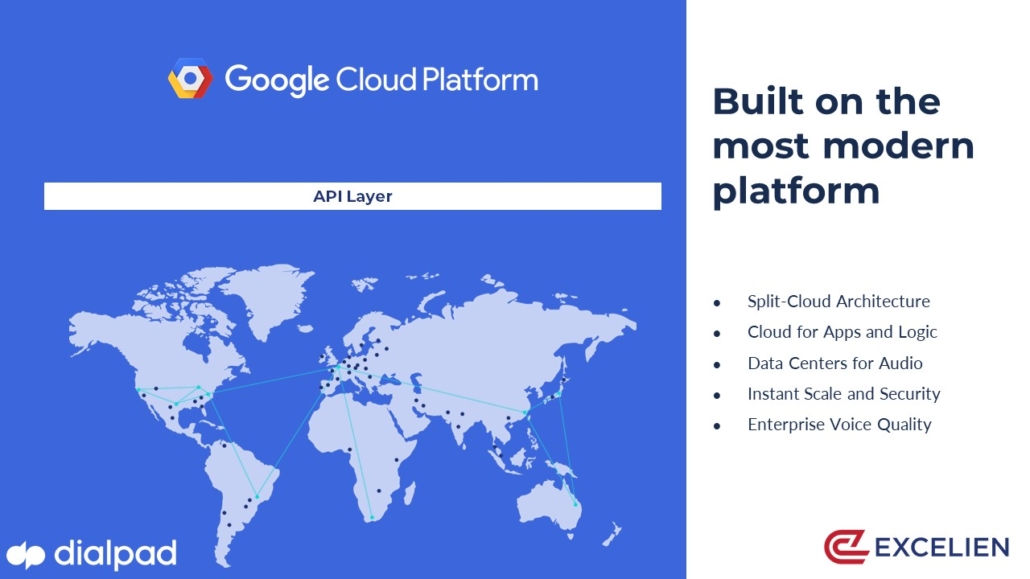 Committed to Service
At the speed UCaaS and CCaaS are growing, Dialpad will not leave you behind – the customer support is fundamental to the Dialpad ethos. The natural growth for many of the trading and largest UC and CC vendors is they churn and burn, acquiring customers, but not giving organisations (especially the SMB market) the concentration and support they need to be thriving customers. Dialpad offers 24/7 end-user support, as well as a comprehensive professional services plan with a Customer Success Manager, a Technical Manager, and an Implementation Manager. Dialpad is an agile, fast-growing organisation that ensures customer benefit and satisfaction is at the top of our priority list, not merely getting the customer on the books.
Our cloud advisory team at Excelien are experts in a range of Unified Communications and Contact Centre rollouts. Please speak to one of our cloud consultants today to see how we can increase productivity, manage costs and move to a futureproofed solution.
Begin your 14 day trial with DialPad!
https://excelien.com/wp-content/uploads/2020/03/Dialpad-Logo.png
630
1200
Excelien
https://excelien.com/wp-content/uploads/2019/10/excelien-1.png
Excelien
2020-04-07 14:06:01
2020-06-02 07:55:05
Dialpad – Goodbye Cord. Hello Future!