Excelien Partners with Talkdesk
Excelien continues growing its vendor community partnering with Talkdesk, an enterprise cloud contact centre (CCaaS) that empowers companies to make customer experience their competitive advantage.
The partnership held the solution to the common problems our clients have endured. The ease of integrations, reducing costs, decreasing ramp-up time for the agent, improving employee satisfaction and having a platform that is straightforward to manage and doesn't require specialists to operate. Talkdesk has already established a name within the CCaaS market with clients such as Tandem Bank, TAP Air Portugal, Trivago and IBM.
The challenge is that most contact centre technology out there today can't meet these modern customer needs. Most were built 20+ years ago, before the digital revolution. These systems operate as channel silos, with little or no integration to CRM or other systems. They are inflexible, hard to adapt to the everchanging business needs and expensive to maintain. These systems lack innovation, so adopting new technology like AI is virtually impossible. And this isn't just a problem with on-premises systems, its also an issue with first-generation cloud solutions.
Ease of Integrations
The fact we're in an era where innovative collaboration and productivity tools are growing faster than ever, to be able to meet the demand for integrations quickly and easily is what IT teams need.
Gone are the days of getting in developers to create APIs, with Talkdesk AppConnect you're able to extend capabilities with push-button integrations with over 100+ partners. AppConnect is recognised by Gartner as the industry's first app marketplace for the contact centre.
AppConnect gives you the flexibility to test the integrations for 30 days for free, and then co-term with the monthly payments. The apps require no long-term commitment and plans can be modified, upgraded or cancelled at any time.
Reducing Costs
Understanding Cost Avoidance vs. Cost Reduction is the message we want our clients to understand. If the main focus is on what you're paying now, you'll be likely to be in a scenario of you get what you pay for, and potentially at risk not being able to scale for future growth.
With Talkdesk, we see that it addresses cost reduction in further areas such as automation through IVR and AI, agent attrition and missed call opportunities which helps your business build up more profit over time. We also look at how we can reduce operational costs, and unaccounted costs such as efficiency, self-service adoption, integration workflows, and disaster preparedness.
It's about thinking long term.
The Stats Speak the Truth
In the world of sales, if you're referred to someone or recommended a product you're 72% more likely to purchase it. Talkdesk has some great accolades having the most and best reviews with Gartner, G2Crowd and Salesforce AppExchange

And being recognised by their clients as well as Gartner has resulted in Talkdesk to enter the Leader quadrant for the Contact Centre as a Service Magic Quadrant. Talkdesk is one of only three vendors appearing in both the North American quadrant and Western Europe Contact Center as a Service Magic Quadrant making Talkdesk an exceptional option for companies requiring an end to end solution for contact centres globally. Talkdesk is the most recent vendor to be in the leadership quadrant and the fastest company ever to make it into the leadership quadrant.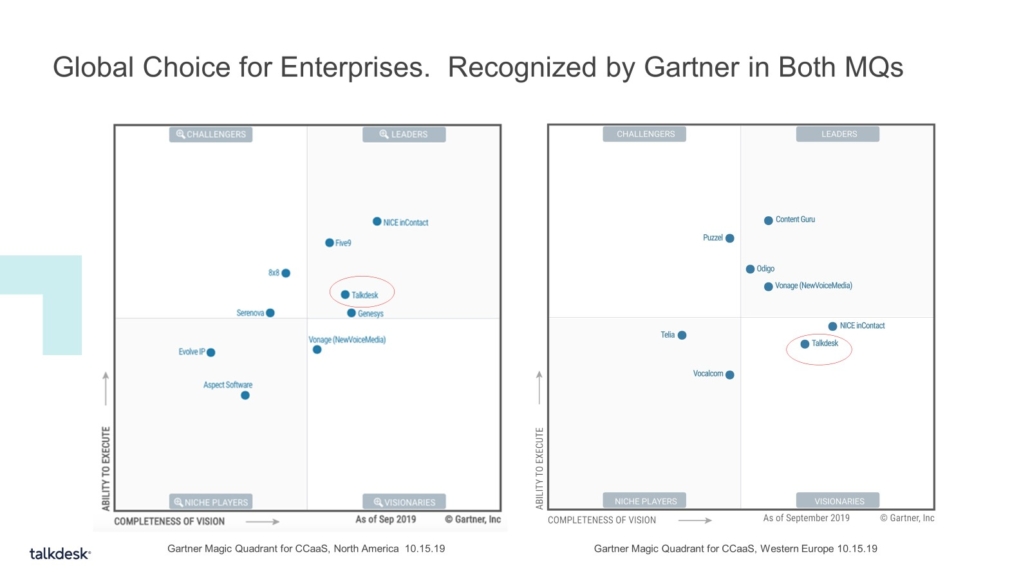 Improving Customer Experience
On average there are 7 stages of transition through the customer experience life cycle, and we look at how Talkdesk manages these, and how it minimises customer effort, boost customer satisfaction, maximise resources and ultimately generate revenue.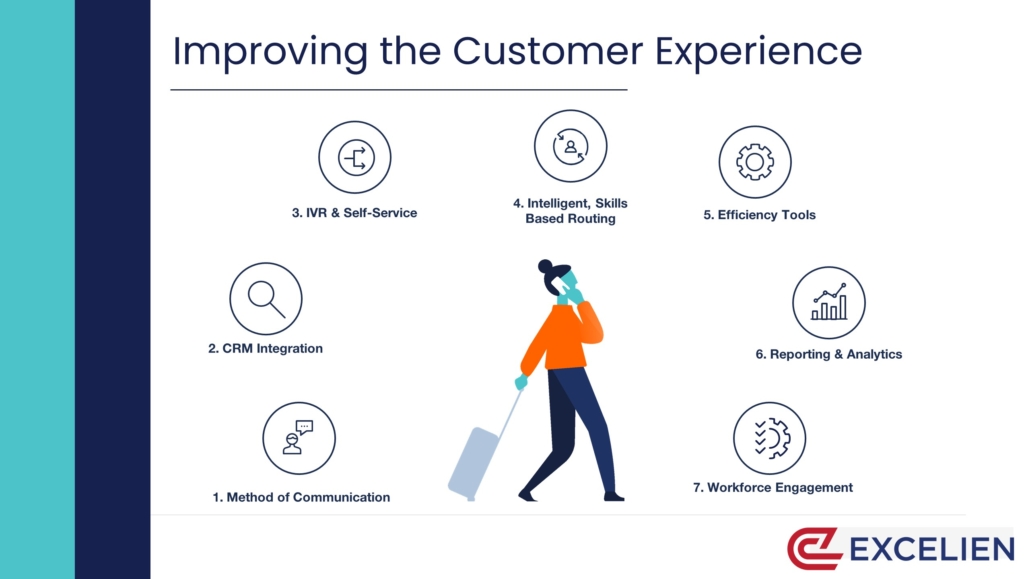 1 – Method of Communication
Customers are not the same as 10 years ago, they've shifted from how they traditionally got in contact, they expect to be able to contact you via IM, Whatsapp, Socials and some just don't want to chase and want the company to contact them back at a convenient time.
Talkdesk provides access through all these contact channels whether its Web, Mobile, Social, Email, Visual/Video or Live Chat.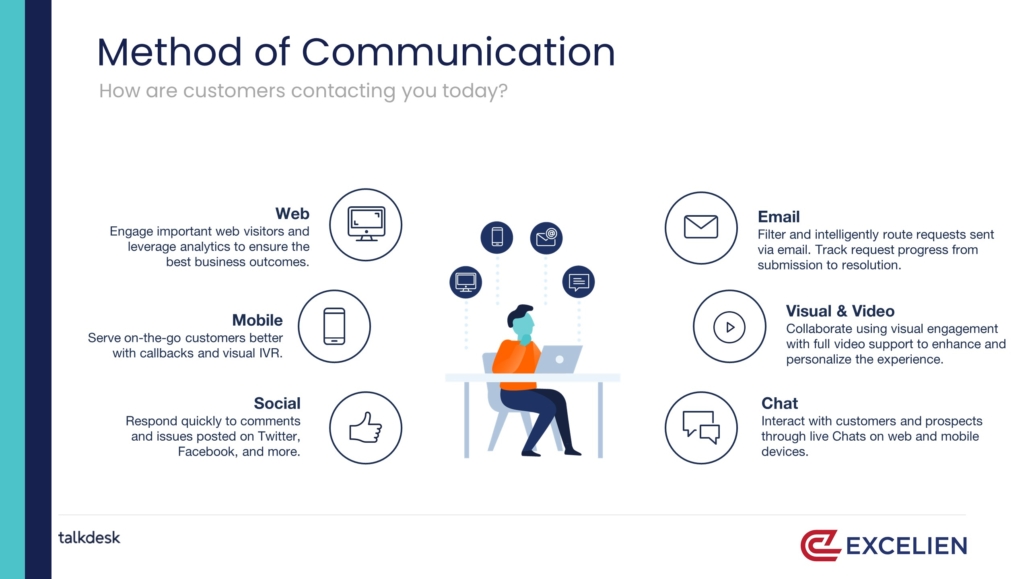 2 – CRM Integration
Customers expect a personal experience, and to do so, CRM integrations need to present context to the agent and contact centres with real-time information about customers, empowering your agent to have more intelligent and seamless conversations.
Whether that identification is their account number, email address or number, it can help quickly identify and address the customer, allowing more profound insights into what the call might be, and promptly personalise the callers information.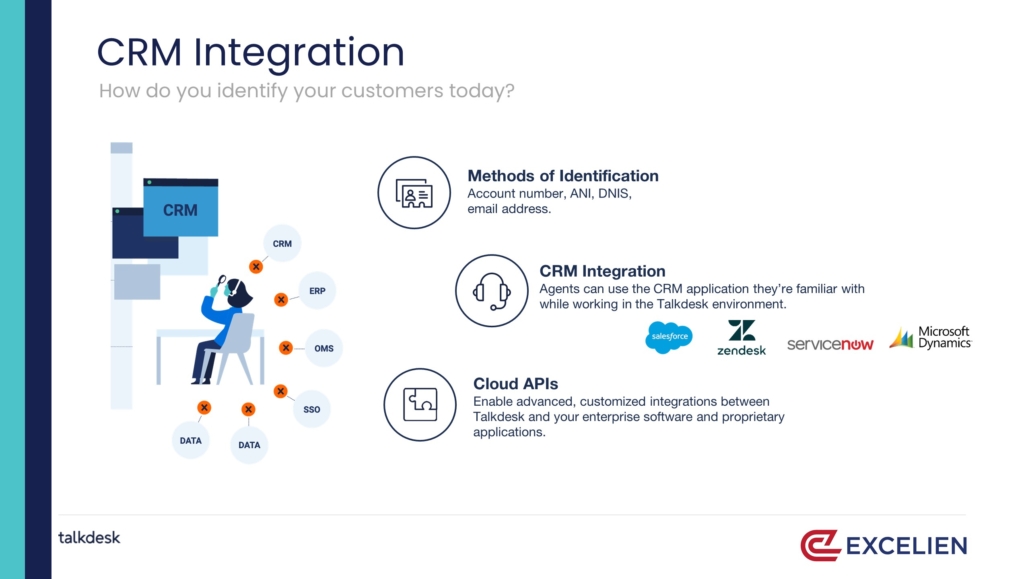 3 – IVR & Self-Service
We all have shortcuts to get around the IVR, such pressing 5 "if you're planning to leave the service" (which would usually get answered quicker!). Talkdesk empowers the customer to use self-service and cut costs by freeing up agents.
As customers call in, the IVR can quickly distinguish customers needs and have them directed to specific agents. This frees up unnecessary time trying to guide the customer to the correct agent, the customer can speak to some who specialises in their topic. If a customer just needs to know their balance on an account or when a bill is due – that's something an IVR can handle.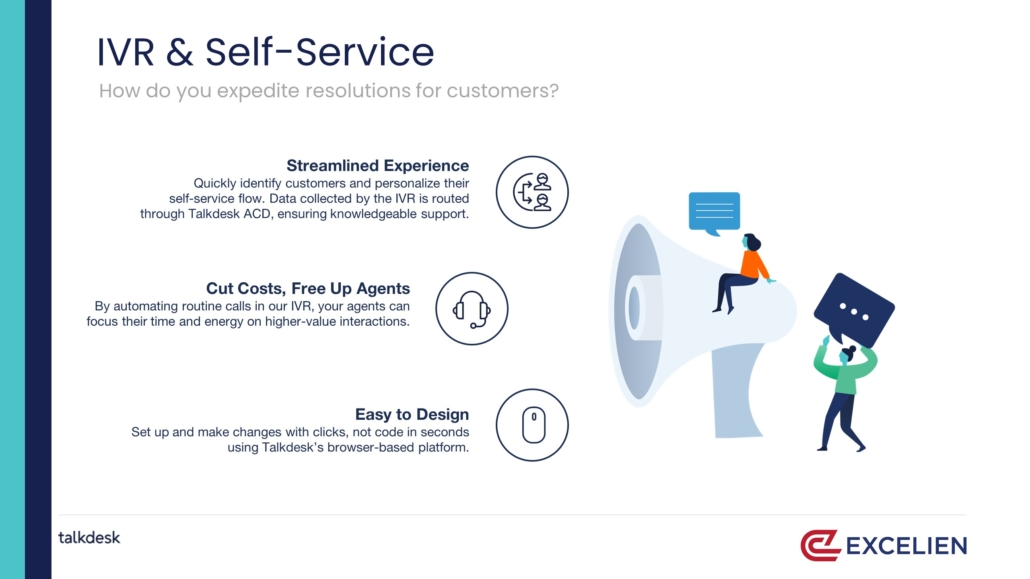 4 -Intelligent, Skills-Based Routing
Talkdesk wants to deliver exception customer experience, but how?
We connect the customer with the best available agents based on their skills, reducing interaction time, improving the quality of service and reducing re-queues. There is also the ability to provide real-time information to the customer about their wait time, queue position and options to opt for callbacks. The intelligent mapping of calls can prioritise high valued or high-risk accounts, getting them to agents as quickly as possible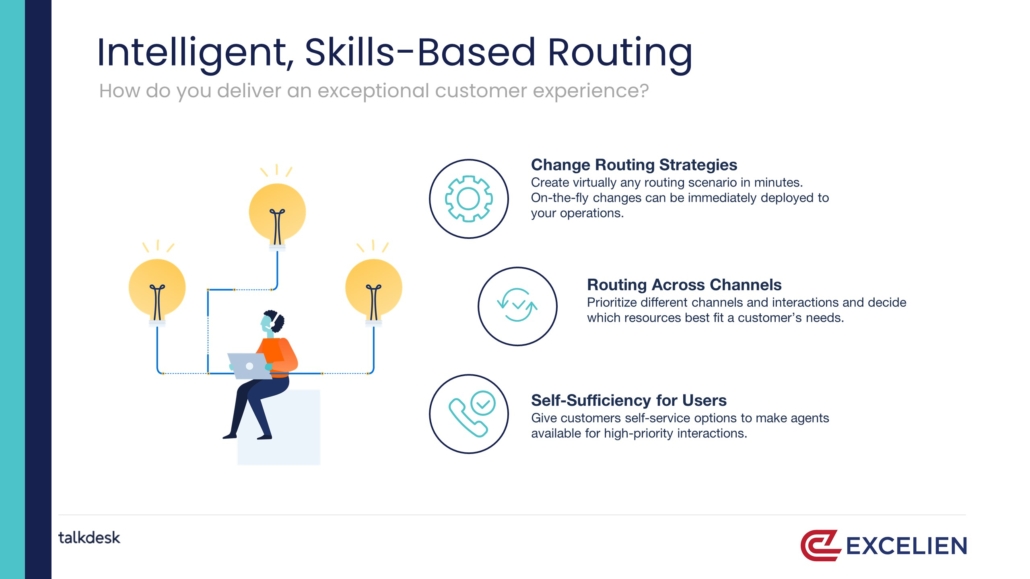 5 – Efficiency Tools
Talkdesk generates efficiency for common tasks with tools like disposition codes or preview dialers, these can conserve time and improve agent utilisation and productivity.
Preview dialers allow outbound reps to have context prior to calling, and power dialers can decrease the time it takes to place calls and leave messages and can move seamlessly onto their next conversation.
Disposition codes help complete everyday tasks to help improve agent productivity by decreasing after-call work and allowing these to be easily indexed within the Talkdesk reporting.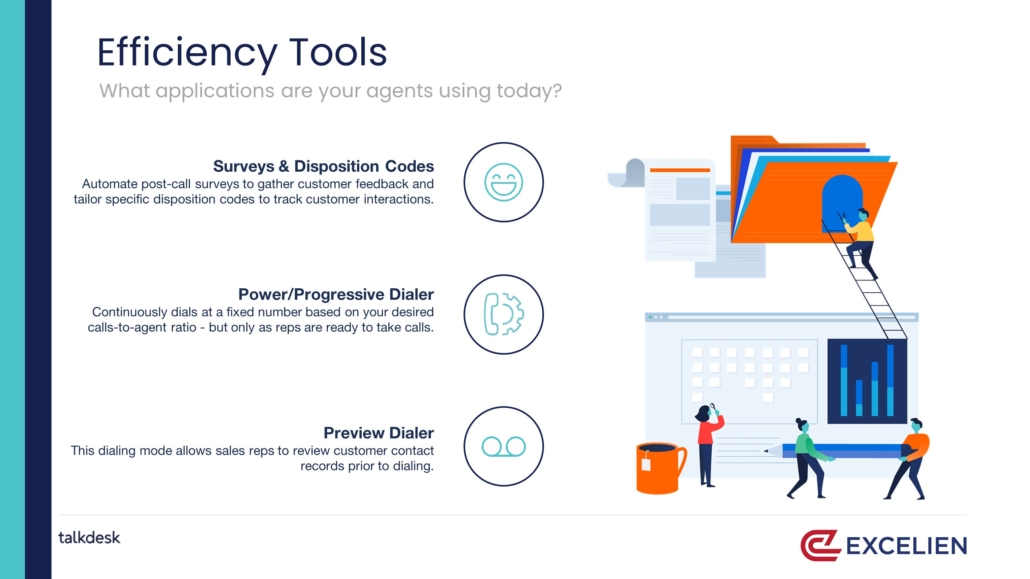 6 – Reporting & Analytics
The Talkdesk dashboard allows you to gain real-time visibility and administration with real-time reporting and advanced analytics. Instead of worrying about code to building out your metrics, you have simple click functionality to create instantaneous dashboards to proactively run your contact centre, leveraging BI to uncover insights and optimise your team.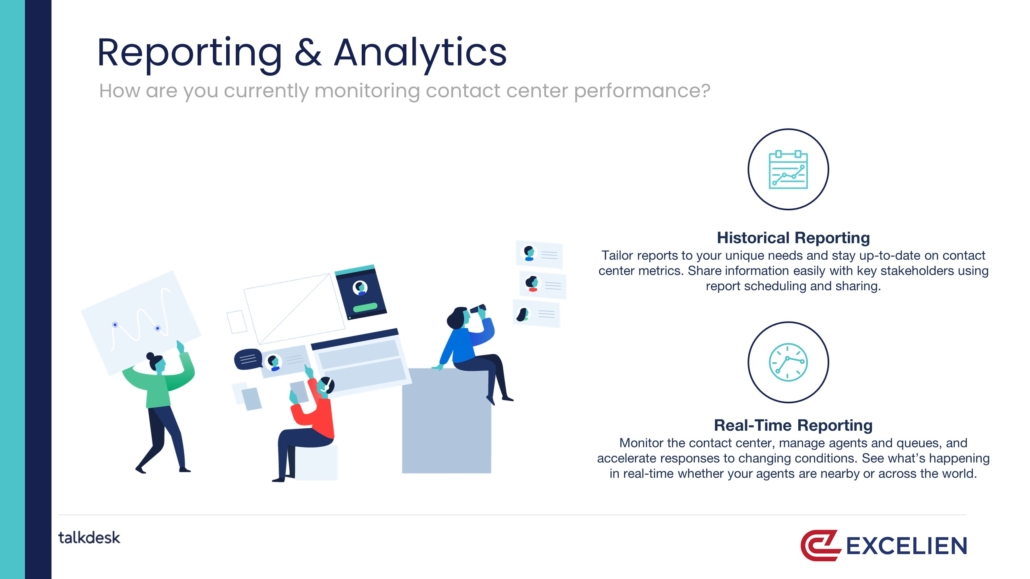 7 – Workforce Engagement
Beyond the dashboard and reporting, you want to engage your staff wherever the agents are located, whether they're remote, based in different time zones or part-time during the busy periods such as Christmas. Talkdesk allows you to create the right balance between cost and service-level management. Talkdesk provides tools to forecast contact volume, schedule contact centre staff based on workload and plan for future events.
Talkdesk can evaluate & benchmark agent performance, which means they can adequately reward or promote agents with accurate depictions of their performance. To help with that, they can ensure compliance with call & screen recording.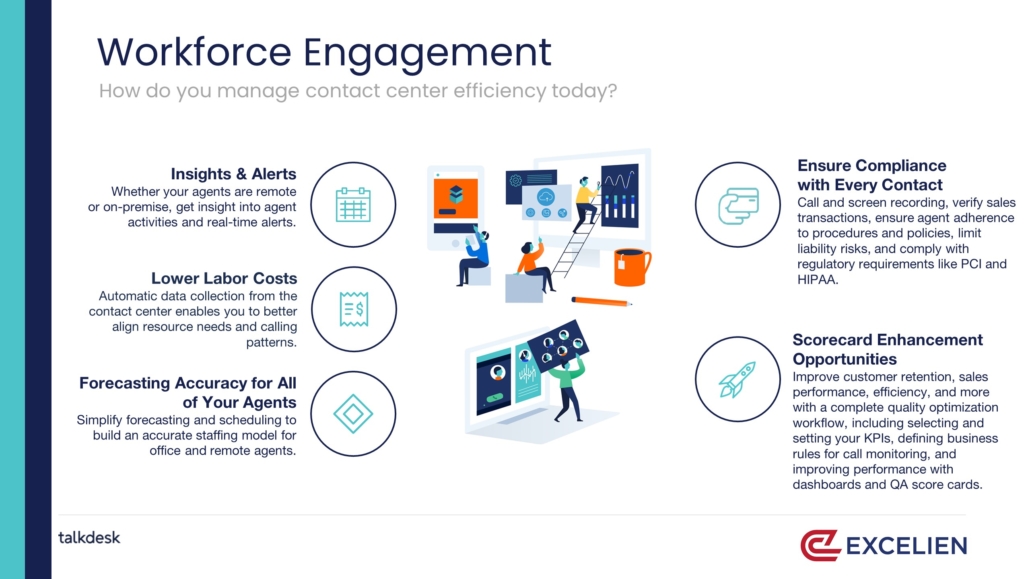 Talkdesk for the Future
Excelien see Talkdesk as the future of contact centre services with the speed of innovation which Talkdesk is developing, being cloud-native, AI deeply embedded within the platform, an industry-unique App Ecosystem and agile development of new capabilities – it leaps ahead over its competitors.
And for our clients, Talkdesk is Customer-Experience obsessed, with one of the only vendors to deliver a 100% uptime SLA, achieve 98% CSAT rating from their customers and over 134% net retention.
Our cloud advisory team at Excelien are experienced in deploying a range of contact centre rollouts through every step of the journey, and our consultants can navigate you to see how Talkdesk can increase productivity, manage costs and move to a futureproofed solution.
https://excelien.com/wp-content/uploads/2020/06/FINAL_talkdesk_brochure_20191227-1-page-001.jpg
1200
824
Excelien
https://excelien.com/wp-content/uploads/2019/10/excelien-1.png
Excelien
2020-06-11 22:19:36
2021-02-19 10:10:41
Excelien Partners with Talkdesk