Companies are continually increasing their international presence into further markets, whether it's to lure new customers, looking to expand product expertise, or to support growth in emerging markets. Following the correct approach is vital, so without the right method, you could be left open to unpredictable or unmanagable costs, loss in productivity, or even jeopardise your market share.
Ensuring the right technology supports you is one piece to the puzzle, and making sure you have an effective procurement strategy for your new office/s is crucial within this.
Excelien explores how to formulate and develop on an efficient and productive IT procurement strategy and allow you to expand into further markets whether its the US, EMEA, APAC or Africa. We highlight six essential elements to look out for, follow these, and you can be confident that you're making the right choices.
The Foundation of IT Procurement Planning
To be successful in expanding into further markets, define an accurate blueprint for how you envisage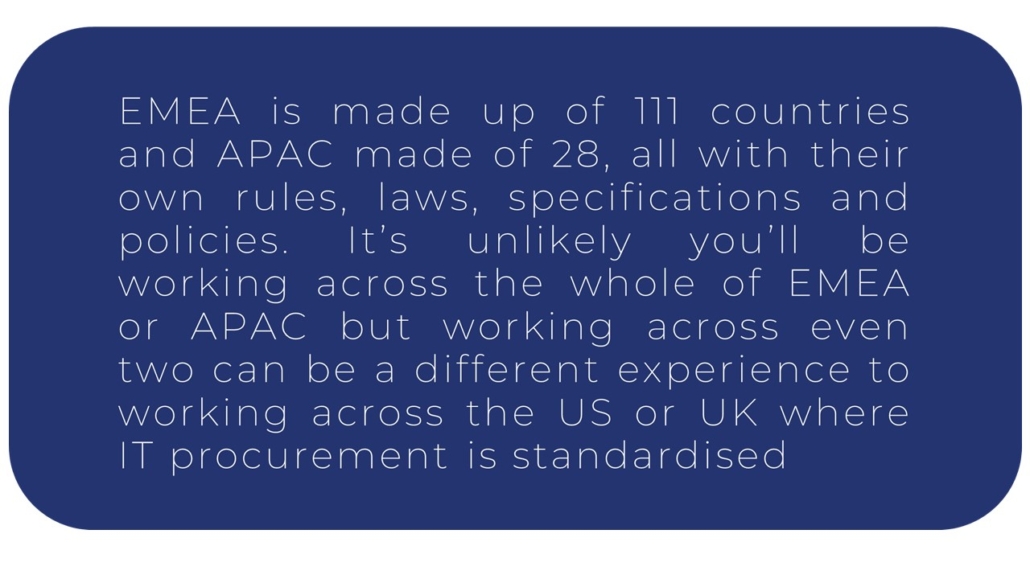 your IT procurement to look in your new region, whether its a carbon copy of your current site or completely new.
It's tempting to keep IT procurement local, and with current suppliers. Still, often this adds costs and complexity and can result in timezone issues, delivery issues or non-compliant IT solutions that are not fit for purpose.
Let us revise that plan. It's better to build a procurement function within your new territory or outsource procurement to a partner with deep experience within the region.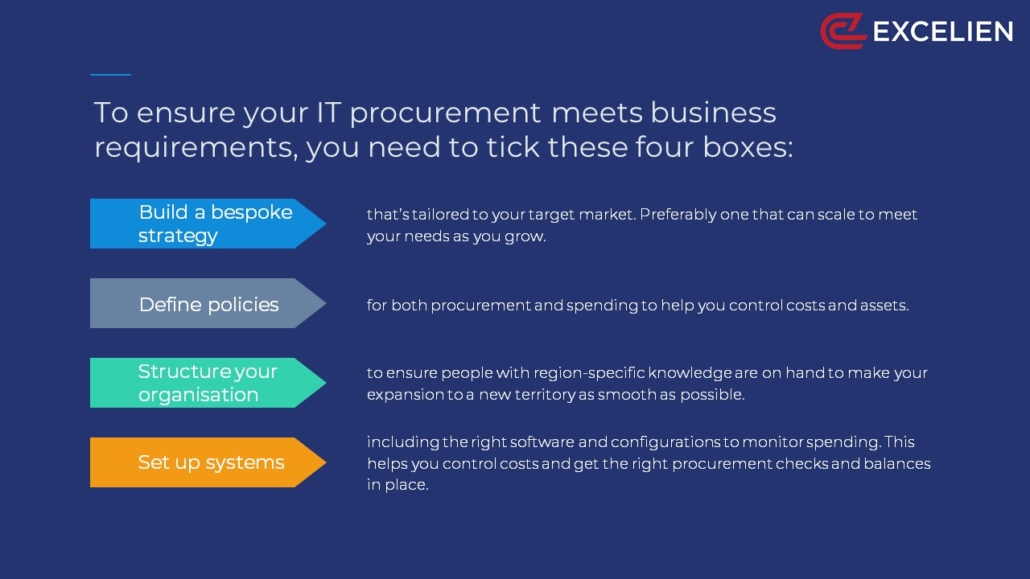 Why Tech Specs Matter
Once you've set up the infrastructure to support the users, policies to be enforced, and a strategy which allows your to expand seamlessly with your growth plan, you need to think about what solutions will support your users and business needs.
Balancing your decision here is no picnic; you can under specify requirements and achieve short term goals with budgets but fail long-term goals related to growth and risking employee productivity. But on the other side, you can over-specify, over-spend and lose credibility.
It's not as simple as getting the raw technical specs correct. Take into consideration what is the purpose of the office, is it offering the same service as the head office, will it have a support team, are the users home or office-based. Choosing the right device for your employees is imperative, and can support talent acquisition.
Gen Z and Millennials, for instance, aspire to be part of a company that lets them work on tablets, phones, and PCs alike—and preferably across all devices seamlessly. Considering that by 2025 roughly 75% of the workforce will be made up of millennials and Gen Z, your device procurement could make a big difference to your organisation's ability to attract talent in the future.
The Hidden Costs of Great Tech
The Apple iPhone was created in 2007, fast forward 13 years and think how fast technology has moved, take this approach to your technology and where the market is now, and how it will look down the road when you're making procurement decisions.
A common problem a few years ago, you may order hundreds of Laptops for a vendor whether its HP, Lenovo, Apple or Dell, only for them to change their charging port to USB-C after. Suddenly you have hundreds of laptops that use old peripherals, and consequently, the market price has also dropped. Frustration from your employees because they haven't got the latest technology and for you now having assets which have moved on.
But partner with an experienced and knowledgable procurement provider, whether that is local or in another region, you can be assured your tech solutions, and purchases are future-proofed.
An experienced procurement provider will ensure they are always ahead of the market news and can relay these updates on to you, often companies turn to tin or box shifters low cost and low service value. With the right partner, you'll get the right solutions for the right region, with no nasty surprises that cost you time and money.
Consider How Things Operate Across Borders.
Once you step across the borders, there's more to consider and acknowledge how your systems and IT solutions deliver their services. You also need to think carefully about work cultures, and people work.
It reaps benefits to consider the softer side of management in geo-dispersed locations, such as how to:
Work productively across varied languages and maintain global communications.

Navigate diverse business cultures (for example, some countries may be more flexible to remote working, while others may be very centred around working in the same office).

Get the most from a different hiring pool; diverse skills and expertise can benefit your organisation.

Efficiently pay and receive payment in different currencies.

Manage varied customs, laws, and tariffs on imports and exports.
There's, even more, to think about if you're expanding into multiple regions simultaneously. Do you plan to move into a few different countries at the same time?
For example, will you need different keyboards to cater for different languages between your territories? And what happens when your people have to travel between regions? Can your IT equipment and peripherals help people work seamlessly wherever they go, or will they be stuck having to carry around an endless power supply adapters?
Where will your equipment fit
More often than not, the kit you procure goes straight to the end-user or direct to the data centre. But, what do you do about the charging cables, keyboards and other peripherals you want to keep in stock?  
Filling up your new office with equipment which is there as surplus and back up, is not efficient practise, also difficult to monitor if you're based overseas. 
This leaves with you a few options, look into a just-in-time fulfilment approach, either from your suppliers directly, or through a trusted procurement partner. Alternatively, if you need to stock hold because hardware might be build to order or have lead times associated, you can look at your procurement partner to set up secure and easy to manage fulfilment centres. By procuring solutions as and when you need them, you can get everyone the devices and kit they require.
Technical & Cultural Challenges with a Global Procurement Partner
Embarking in new markets is exciting, you learn and develop new skills, and this requires a comprehensive understanding of the technologies the users, organisation, and you need – and the providers that can offer it in those new locations you expand into.
Beyond understanding and overcoming the technical challenges, consideration for culture and customs is something which requires significant focus. For example, how does your new office view remote working or contractors? Is working from home an option available, or will you need to remote meeting and collaboration solutions? What about contacting each other, do they have preferred methods like IM, Socials, or mobile? Do users regularly travel from country to country?
Supporting Staff
In an ideal world, you want people on the ground with a mixture of extensive procurement and fulfilment expertise and comprehensive local knowledge. It's these factors that will make sure your expansion goes as smoothly as possible. 
Nevertheless, obtaining these skills internally is going to be a challenge, unnecessary commercial overhead, and time-consuming. Countless businesses lean on a procurement partner to manage the burden for them.
As you know, there's more to procurement than just getting the right kit to the right people. If you treat procurement as a purely transactional function, that's what you'll get. But if you're willing to work with a strategic partner, your procurement can add high-level value to the business. This will enable you to pursue your expansion and digital transformation initiatives with confidence.
At Excelien, we have extensive experience in navigating both the technical and cultural challenges of global expansion. In fact, we've helped some of the biggest businesses in the world successfully grow into new territories.
Are you interested in expanding into further countries? It's likely that you're experiencing (or will soon encounter) a range of technical, financial, and cultural challenges.
If you'd like to talk through these challenges and learn more about how Excelien can help you solve them, contact one of our procurement experts.
https://excelien.com/wp-content/uploads/2020/06/1423199018.jpg
272
768
Excelien
https://excelien.com/wp-content/uploads/2019/10/excelien-1.png
Excelien
2020-06-25 22:24:22
2020-06-25 22:24:22
Excelien supporting IT procurement across EMEA and APAC