Zoom was one of the most common words used in 2019. For many some older generations maybe the new MSN, the uptake wasn't just businesses allowing users to continue WFH but consumers having access and meeting friends and family online.
Excelien is excited to have Zoom now part of our portfolio of vendors. We see Zoom as an easy-to-use, dependable and innovative platform for video-first unified communication, which also delivers phone, meetings, webinars and team chat.
The advisory services work with several vendors and continually analyse these but, Zoom is architected different, it's the only platform which was built with video as its root foundation, this at its core is why customers like Walmart, Uber and Hubspot rely on this the reliability and scalability, not only that; Zoom also have a customer footprint in over 94% of countries around the world!
The common association with Zoom is video, which is true, but the video-first communications platform also offers: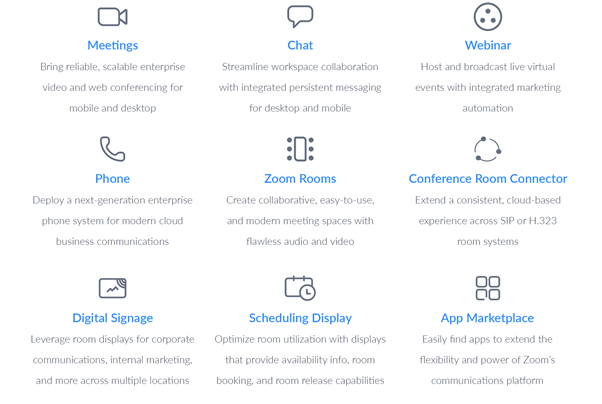 Zoom has, and will continue to mould the way enterprise organisations globally communicate and connect. Zoom comprises all the tools you need into one simple platform – from 1:1 meetings to meeting rooms to large broadcasted webinars. It's a seamless experience on desktop, mobile and conference rooms. With Zoom, companies have seen an 85% increase in video usage and VOIP six times more than traditional telephony – so people join fast and are more productive, and companies save money.
If you've come straight to this page, you may have missed how we work, Excelien has partnered with Zoom on an advisory partnership; this means, you have free access to our pre-sales team, consultants and 0% margin pricing.
What's the most important priority to you with video collaboration?
What would you like to accomplish with Zoom, drive sales, expand the market or more?
What features are you currently using in your existing solution? What are some specific features you require but do not now have?
What do you do for IM and Presence today?
What are you using for voice today – on-prem vs PBX?
Excelien have a range of experts experienced in delivering Zoom, speak to one of the consultants and understand how we can help you in your journey.
https://excelien.com/wp-content/uploads/2021/02/excelien-zoom.jpg
720
1280
Excelien
https://excelien.com/wp-content/uploads/2019/10/excelien-1.png
Excelien
2021-02-10 09:38:23
2021-02-10 09:38:23
Excelien partner with Zoom